04 April 2020: Joanne McDonagh
During the coronavirus outbreak many companies are required to have their employees work from home. Of course, homeworking isn't a new concept.
It's estimated that nearly a quarter of American workers work remotely, with over 1.5 million workers in the U.K. working from home full-time. Indeed, across the globe, it's estimated that up to 70% of people work remotely at least one day a week.
The perfect homeworking environment
Working from home allows you to effectively create your own space, in deciding what type of work environment you want to create you must take into consideration the type of work that you will be doing , what equipment you may need and whether or not you will be doing conference calls.
Privacy is something that will play a huge role in setting up your workspace especially if other people are in the home as you work. Just like noise in any office environment can disrupt our work, so to does noise in our home. You might want to consider putting up physical divides or boundaries allowing you to create a personal work area. A great way to do this is by using storage. A bookcase can provide an excellent barrier whilst also providing a handy storage space.
Provide Enough Storage
Despite computers dominating written work, you will most likely still have a lot of paperwork, so providing ample storage is important to stop your home office becoming cluttered. A standard filing cabinet may feel ugly, so look for alternatives.
If you rely on visual reminders to complete tasks, look at wall storage options that keep things within eye sight, such as pin or chalk boards, or magazine racks. If bookcases are something you need, get sometime big enough to avoid over-stuffing, and attractive for if you have visitors, or as a background to conference calls.
Whatever you decide, ensure you have enough space to keep things neat and tidy, and not spilling out into the rest of the room.
Provide Enough Light
Make sure you have enough access to light. Having access to natural sunlight is the best option, but with poor weather comes poor light, so think about your indoor lighting options.
The light you need will depend on the way you work. If you're are frequently working on papers, or looking down upon a desk, a traditional desk lamp will probably work best. If your needs vary, look for more versatile options, such as a swivel lamp.
Indoor Lighting Options – Click here to choose your own
Drop In Some Greenery
Plants make us happy. Countless studies have shown they reduce stress, increase productivity, and boost productivity. Placing them in any inhabited space is beneficial, but especially so in the workplace. Think about adding one or two potted plants in your home office, such as a small one on your desk, and a larger one somewhere around the room.
Whilst living plants also help to clean the air, the visual stimulus of synthetic plants provides similar benefits, so if you don't feel you can look after real plants, you can go for pretend ones instead.
Ergonomics at Home
For many of us working remotely, will mean that we can often lack health and safety polices, this doesn't mean that you should neglect your wellbeing by skimping on an ergonomically robust workspace. The health risks that come with a sedentary lifestyle and sitting at a desk for long hours with out the correct ergonomic set up are well now established, and a lot of the traditional furniture we have at home forces our bodies into unnatural and unhealthy postures.
This isn't limited to just a chair but to your entire homeworking office set up. Rather than staying seated at your desk all day, you should include activity circuits. Don't set up your workstation so that you have everything in arms reach. Instead create a space that you have to get up to answer the phone or to file something away. Building micro movements into your routine will help and allow your body the break it requires from a seated position.
Our bodies can typically tolerate just 3 hours of sitting a day, as doing so results in the electrical activity in our muscles dropping, and a reduction in the lipase that our liver uses to digest and break down fat. This is why sitting for prolonged periods is so risky in terms of heart attacks, strokes and cancer. Make sure you construct your workspace to counter this risk.
Ergonomic Solution Options – Click here to choose your own
Inspiring Ideas
Anne Romedahl (@morrisseymmm) | Interior stylist & writer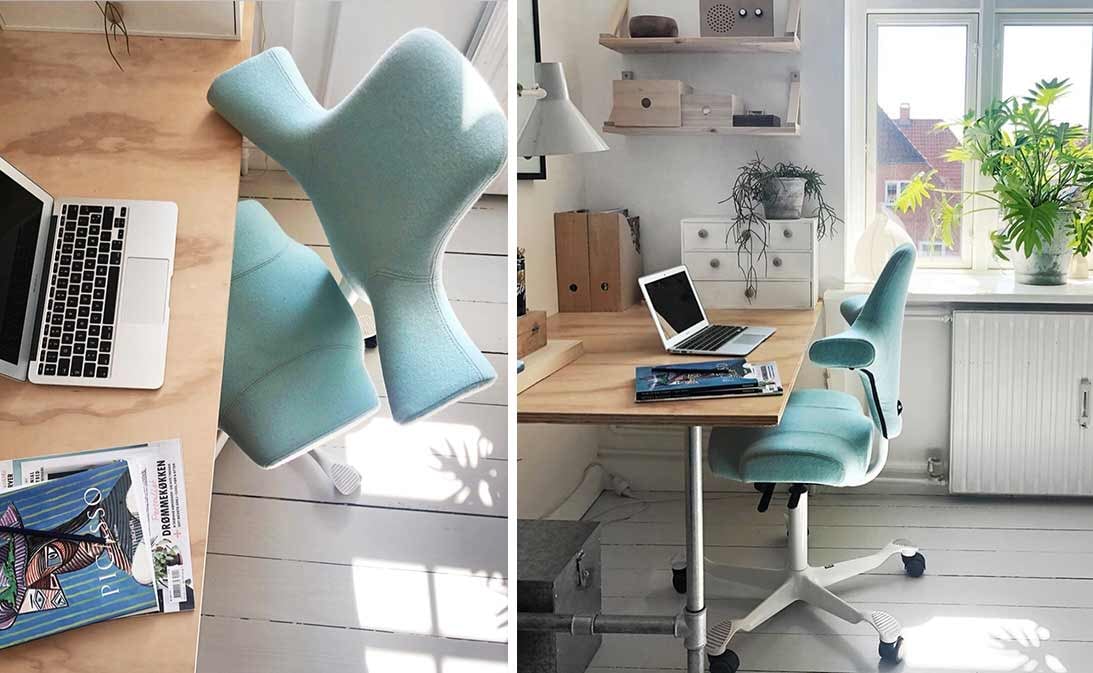 Light and airy
Great for storage
A dash of colour
Anne's home office has a very natural feel, with various wood textures and pale calming colours complimented by some nice plants to bring that fresh outdoors feel into it. Her desk has enough space for her laptop, and vital storage space for all her work inspiration.
Anne used her seating to add some character and colour into the workspace, a vibrant sea green fabric from Kvadrat on her uniquely shaped HÅG Capisco, a comfortable and flexible chair which takes up little space. Its warm and soft aesthetics make it perfect for the home.
HÅG Capisco – Click here to choose your own
Anne Romedahl (@morrisseymmm) | Interior stylist & writer
Flexibility
Great for smaller spaces
Versatile
The desk is the starting point of the design to any room. The KO23 desk is the minimalists dream. It provides you with a high quality finish and helps to brighten up a rooms interior making it very appealing. It's crisp white finish enables the KO23 to be the centre piece as it easily allows you to create a space that can be vibrant or one of calmness and tranquility.
The desks are all height adjustable, which provides its users with great flexibility during the day. Also, the tables are available in many different shapes and sizes, so it is easy to find the right size for any office.
Sit Stand Scandic Desk KO23 – Click here to choose your own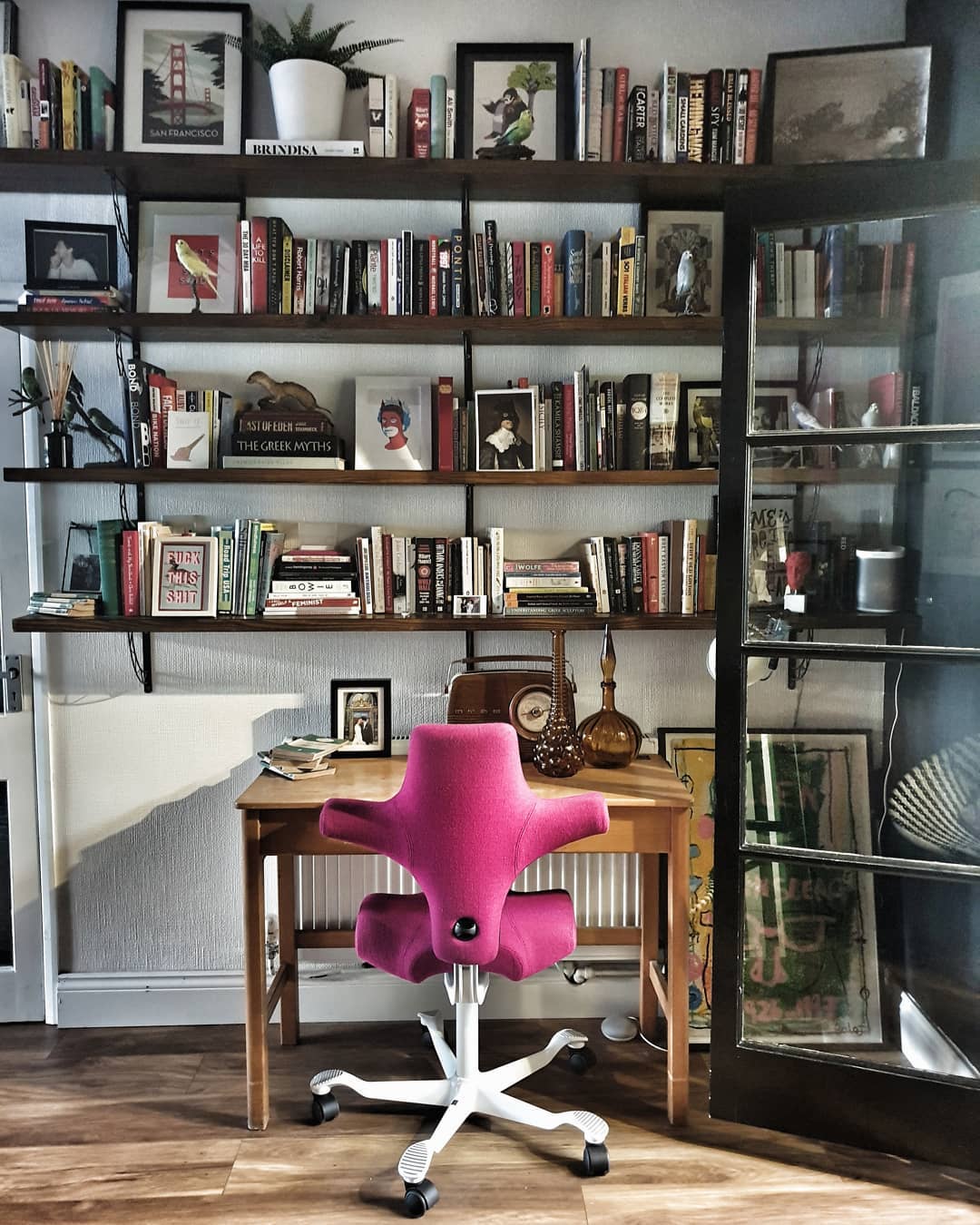 Vibrant colour contrasts
Vintage meets modern
Maximalist
Robyn, a maximalist of the heighest order, where more is always better.
Her vintage desk is small and functional, and sits under a large bookshelf full of everything she needs to inspire her desk-based work. To clash with her well-aged and natural coloured interior, she chose a vibrant fabric for her HÅG Capisco chair, a real pop of colour to inject even more character into her workspace.
We think it looks fab!